Working Towards Racial Equity at Rosati-Kain
A Year in Review - May 2021
Over the last year—under the leadership of Dr. Goodwin and Principal McNamee, with the help of highly qualified alumnae, faculty, and staff—concerns about racial equity, discrimination, microaggressions, and current events created opportunities to begin dialogues and develop initiatives supporting Rosati-Kain's mission of being an inclusive and diverse community. A number of efforts were launched to address racial unrest and uncertainty during a pandemic. Those include:
R-K staff created a Cultural Competency pilot to become part of the curriculum
Professional Development with Anjanette Clark to ensure the curriculum is reflective of the world and community we serve
The Unity Lab Multiethnic Conversations (Lauren Drummond Littrel) with parents, faculty, and students 
Truth, Trauma, & Reconciliation with Erin Brennan and Ronda Smith - created the Healing Project where the girls created art, poems, and other ways to express their authenticity
Listening Sessions - designed to hear the concerns of students and alumni to begin to develop a strategic approach to racial equity and inclusion
The focus on building more diverse alumni engagement is on-going
Development of RK Mentor Program - in the process; alumnae have volunteered and are expecting to be paired with a student or recent graduate
Looking ahead to the 2021-22 school year, Rosati-Kain will be participating in the Boniface Foundation Cultural Competency Project. This is a two year project in which R-K will be in a cohort with three other private high schools to improve cultural competency as an integral part of a welcoming and comforting environment. This cultural competence program will be part of a multi-subject introductory course for freshmen. Among the many skills they will develop in order to be successful at Rosati-Kain, they will practice examining individual biases, systems of exclusion, and imagining a community based on equality and empowerment for all students. Please continue reading below to hear more about the pilot program students participated in this spring in preparation for the freshmen course.
A New Pilot Program 
As Rosati-Kain takes action to promote racial equity, R-K faculty members, Campus Minister Erin Brennan and Diversity Club moderators Sean Ferguson and Mel Wilson, are currently working on a new eight-week pilot program with sophomore, junior and senior students for a Cultural Competency Class we hope to offer to freshmen in the fall.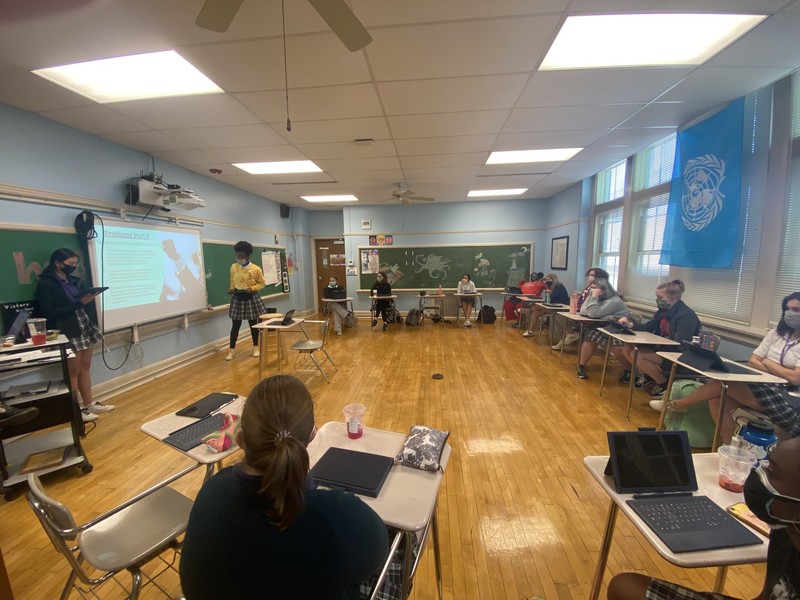 Our most recent Cultural Competency class featured student teacher-outs, looking at issues that Black communities are advancing with ally partnerships and advocacy. The goal of the pilot program is to create a cohesive diversity and inclusion focus for our school, in conjunction with efforts from Diversity Club, the ongoing Unity Labs, and alumnae-driven equity projects. By becoming part of our freshmen curriculum next school year, we will continue to inform and grow with each grade throughout their time at Rosati-Kain and ultimately be able to apply this growth across all subjects, making it a part of our student culture and identity. 
Throughout the pilot program, students are invited to provide feedback and evaluation that our facilitators can use to apply to the future class offering. The curriculum was written with school input by Jenny Truax, an author, artist and social justice educator.
Inspiring work is being done in and outside of the classroom! Only two more sessions remain in this pilot workshop, so please keep our students and faculty facilitators in your prayers.
Professional Development 
On Monday, March 22, R-K Staff took part in a professional development day focused on culturally responsive learning.  The work centered on the work of the Equity Collaborative and outlined strategies to create learning experiences that embrace all students. The objectives for the day were to increase understanding of  the Culturally Responsive Learning space and explore ways to include culturally responsive strategies in daily lessons and activities with intentionality.  The morning concluded by revisiting work to combat microaggressions and how to become an upstander in tense situations.
There was great participation from the staff and the information on Culturally Responsive Learning was well received. Anjanette Morrow Clark '83 continues her work as a school consultant this semester by developing and offering professional development support to our faculty and staff.
Rosati-Kain's Completes Second Unity Lab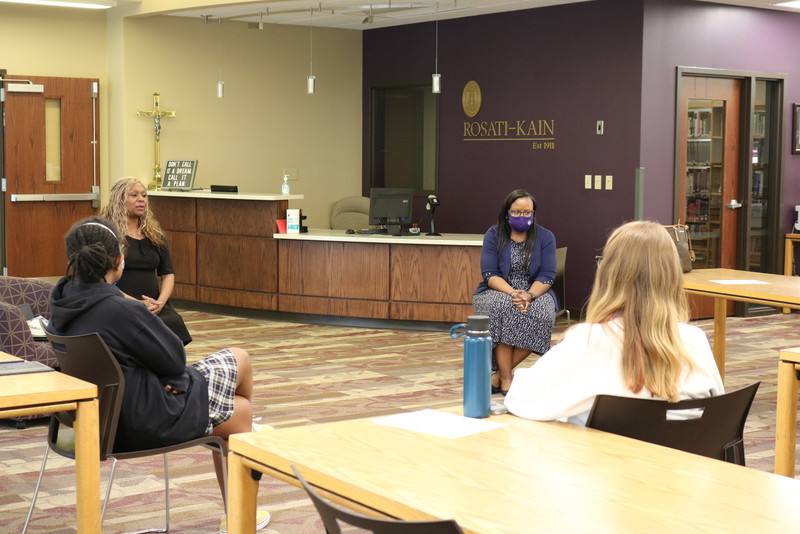 The Truth, & Reconciliation Committee built on the success of Rosati-Kain's first Unity Lab, facilitated by Lauren Drummond Littrell '84, with a second program taking place this spring as well as opening up the opportunity for students to participate. 
In March, we held our first Unity Lab conversation with student participants. The Unity Lab was offered to students on Tuesdays and ran for four weeks. All students were welcome to join Pastor Lauren Drummond Littrell '84 for a discussion on race, focused on scripture, and based on our lived experiences and struggle with racial equity. As we wrap up the end of this school year and complete this four-week program, Lauren and Campus Minister Erin Brennan continue to offer support to our students and collect feedback. 
We recently completed our second Unity Lab with the Rosati-Kain community. The second Unity Lab started on Tuesday, March 23 and ran for four weeks. The goal of our Unity Lab programs is to help participants heal from the trauma of racism and bring about restoration, with the ultimate goal of racial reconciliation. In addition to Lauren using her own ministry tools and sharing her personal experiences, the primary resource for the Unity Lab is the workbook entitled, Multiethnic Conversations: An Eight Week Journey Toward Unity in Your Church by Mark Deymaz and Oneya Fennell Okuwobi.
Please contact Michelle Martin Bonner at [email protected] to inquire about future Unity Labs. To find out more about Love One Another Ministries, visit loveoneanotherstl.org or email Lauren at [email protected].
Become a Mentor 
We are calling on R-K alumnae interested and willing to mentor a current student or recent graduate. The purpose of the Sister Keeper's program is to strengthen and further develop our Rosati-Kain Sisterhood around personal growth, extending families, and expanding our communities.  Mentors will have to complete an application and background check to participate.  During this pandemic, there will be opportunities to meet virtually during a free period or after school while socially distancing, taking precautions to stay safe and healthy.
For more details and a mentor application, please send an email to [email protected].