Congrats Caitlyn McNiff '16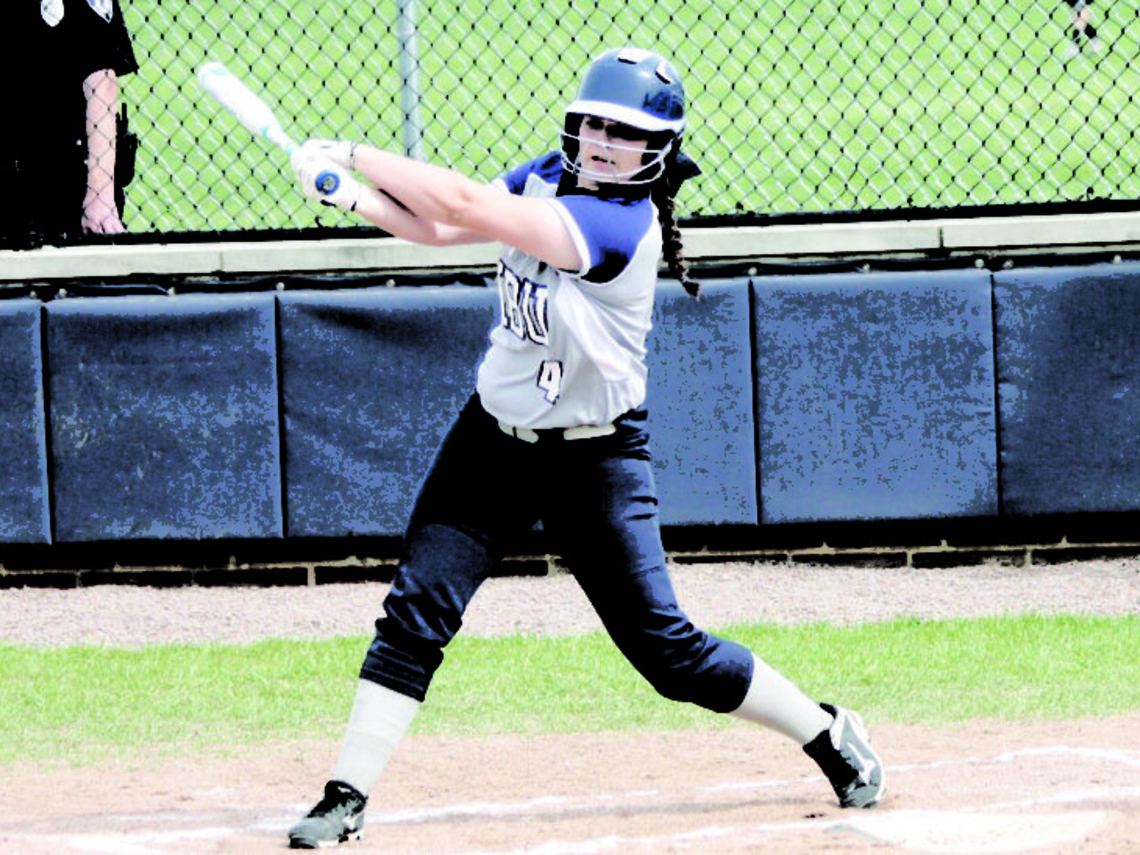 Congratulations to Caitlyn McNiff '16 on being named NAIA National Player of the Week. Caitlyn was three-year Varsity Softball player at R-K.
ST LOUIS—Missouri Baptist Sophomore Outfielder Caitlin McNiff was named the National Player of the Week, the National Association of Intercollegiate Athletics (NAIA) announced on Tuesday. For more, read the following story by NAIA Director of Athletic Communications and Media, Chad Waller:
KANSAS CITY, Mo. – Caitlin McNiff of Missouri Baptist has been named the first NAIA National Softball Player of the Week and Emily Smith of Valley City State (N.D.) has been named the first  NAIA National Softball Pitcher of the Week, the national office announced Tuesday. McNiff and Smith were selected based on their performances from March 12 – 18 and were chosen out of a pool of conference, independent and unaffiliated group winners.
Softball Player of the Week
Caitlin McNiff, Missouri Baptist
So., OF, Florissant, Mo.
Compiled at least one hit in 8-of-10 games during the week, including six contests of multiple hits.
Weekly Stats

Batted .552 (16-for-29) with five home runs, 15 RBI, and 10 extra base hits.
Had slugging percentage of 1.276.
Scored 15 runs on a Florida trip in which Missouri Baptist went 9-1 against the competition.
Finished with two homers, 4 RBI and a 3-for-3 day in the 9-1 win against Marywood (Pa.) University.
Softball Pitcher of the Week
Emily Smith, Valley City State (N.D.)
So., P, Portage La Prairie, Manitoba
Smith pitched in 11 out of the Vikings' 12 games last week as she posted a 4-0 record with two saves, helping the team to a 10-2 record.
Weekly Stats

Tossed a total of 37.2 innings and posted a 2.02 ERA in 11 contests.
Struck out 40 batters.
She was brilliant in her final game of the week, entering with a bases-loaded jam in the first inning and pitching a shutout the rest of the way in a 1-0 win against Bellevue (Neb.)
At the plate, also tallied a batting average of .385 with 14 runs scored and seven RBI.
For more information on NAIA softball, click here.
For a complete listing of all the national statistical leaders, click here.
Player Nominees: Madyson Brown, Point (Ga.); Brianna Heaviside, Marymount California; Kelsey Randall, Southern Oregon; Christina Pembrook, St. Ambrose (Iowa); Issy Hoyt, Marian (Ind.); Anessa Cepeda, Hope International (Calif.); Whitney Chamberlain, College of Saint Mary (Neb.); Morgan Willis, Central Methodist (Mo.); Sydney Willhite, Georgia Gwinnett; Claire Eccles, British Columbia; Lindsay Maryon, Kansas Wesleyan; Tyra Graham, Cumberland (Tenn.); Rachael Dillon, Dickinson State (N.D.); Gabby Davila, Houston-Victoria (Texas); Kyndyl Olds, Indiana Southeast (Ind.); Chloe Clifton, Science & Arts (Okla.); Payton Adams, Mobile (Ala.); Megan Isoba, Webber International (Fla.); Briana Mairose, Aquinas (Mich.)
Pitcher Nominees: Delissa Dennison, Missouri Baptist; Heather Keane, Union (Ky.); Sarai Camacho, La Sierra (Calif.); Sabrina Boyd, Corban (Ore.); Ashley Yattoni, St. Ambrose (Iowa); Mckenzey Ridge, Indiana Wesleyan; Larissa Martinez, Menlo (Calif.); Hallie Misiaszek, Morningside (Iowa); Gabrielle Williamson, Edward Waters (Fla.); Libby Bemis, Graceland (Iowa); Piper Wagner, Georgia Gwinnett; Rebekah Clinton, Ottawa (Kan.); Hannah Morton, Georgetown (Ky.); Michelle Revels, Houston-Victoria (Texas); Kelsey Conkey, Rio Grande (Ohio); Emily Cerny, Science & Arts (Okla.); Caitlin Perry, Faulkner (Ala.); Lauren West, Thomas (Ga.); Racquel Ward, Siena Heights (Mich.)
2018 Softball Composite Award Winners (Pitcher, Player)
Week 1 (March 21): Emily Smith, Valley City State (N.D.); Caitlin McNiff, Missouri Baptist