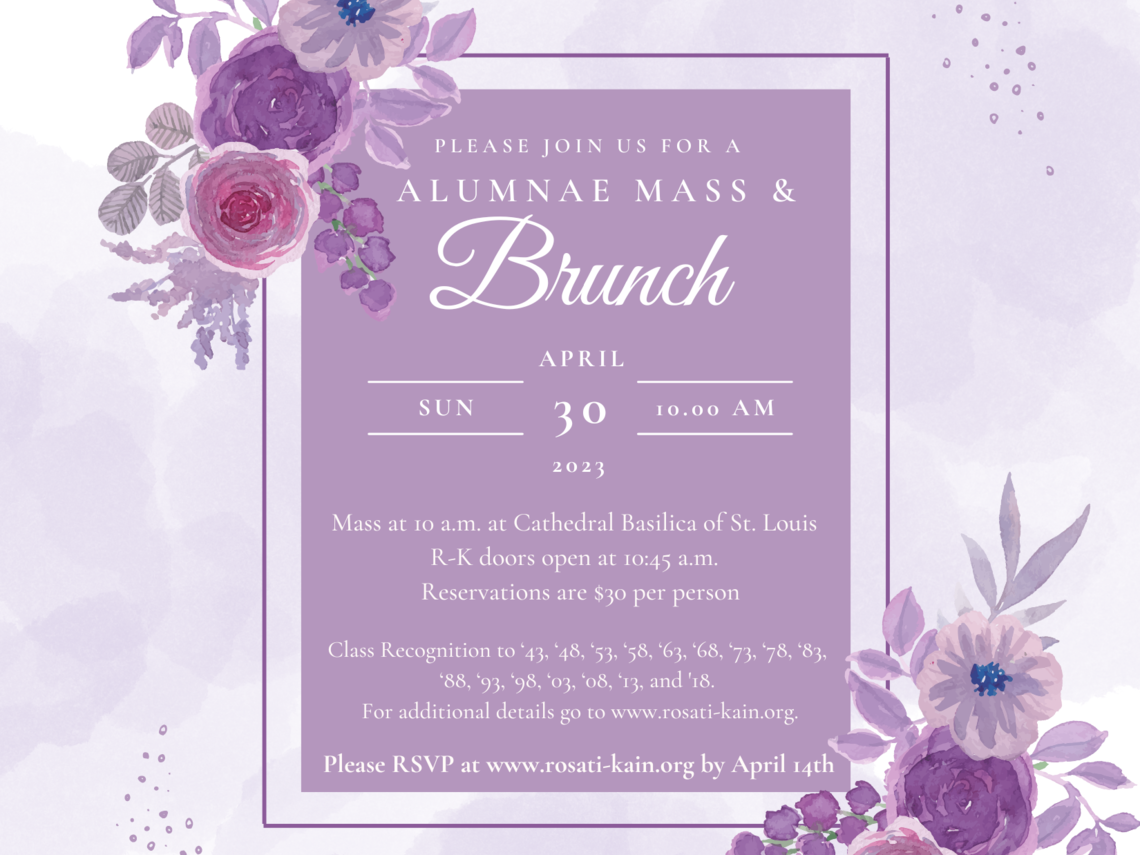 We are so excited to welcome you back to Rosati-Kain for the Annual Alumnae Mass & Brunch on Sunday, April 30, 2023.  To make your reservations online, please complete the form below. To make your reservations by phone or check, please contact Stephanie Boyd at 314-533-8513 ext. 2214 or at [email protected]. The deadline to RSVP is April 14. 

Mass at the Cathedral
Mass at the beautiful Cathedral Basilica of St. Louis will begin at 10:00 am. We ask that you arrive by 9:50am as we have reserved seating.
National Honor Society members will greet you at the entrance to the Cathedral and guide you to your seats. 
After Mass please join us at Rosati-Kain for brunch. For your convenience, you may enter Rosati-Kain at the Learning Commons entrance on Newstead.  There will be National Honor Society members available to assist you with check-in.

Parking
You may park at the Taylor lot or on Newstead Avenue.  Parking is also available in the Engineer's Lot on Lindell Boulevard. If you need to make arrangements for special parking, please contact Stephanie Boyd at 314-533-8513 ext. 2214 or [email protected].  

Brunch at R-K
If you are not attending Mass prior to the brunch, please enter Rosati-Kain through the gymnasium entrance on Lindell Boulevard.
Doors to Rosati-Kain will be open at 10:45 am.
Volunteers will be available to check you in and to direct you to your table.

Program:
Performances by R-K Instrumental, Directed by Elaine Fassi, and R-K Voices, Directed by Nancy Kowalcyzk
Welcome and Prayer
Brunch Buffet
Speeches
Closing Remarks
Class pictures will follow the program at the stage 
Immediately following brunch and closing remarks, the Kougar Kloset will be open and the tours of the school will be available.