The future is rooted in all of us! Over 13,000 alumnae who have walked through the doors of R-K since 1911. We are all RK Girls and connected in spirit!
You, our alumnae, are a vital part of the success of R-K! There are many ways you can be involved, whether it is attending the auction, sending us information about your achievements, or supporting financially the Fund for R-K. 
We will also work harder to help you maintain and strengthen your connection to Rosati-Kain. You will find information on upcoming events, details about Alumnae Mass & Brunch, class reunions, news, and photos of what is happening at school, but we will also want to feature amazing things you are doing.
 
Please take a moment to update your contact information so we can keep you informed on everything R-K!
Alumnae Association
The Rosati-Kain High School Alumnae Community honors a deep tradition of lifelong learning and lasting friendships that connects Rosati women across the country and around the world. Whether you attended R-K for one year or graduated as a "kougar," we invite you to reconnect with old friends, share your own updates and learn about R-K today. It's not four years, but for life!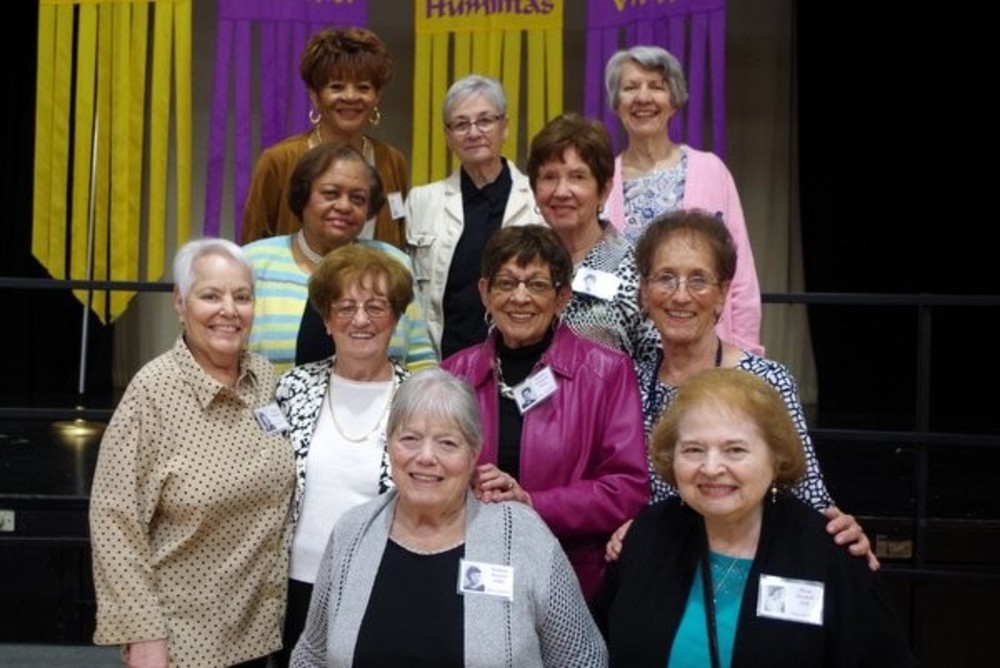 Alumnae Association 
Take a look at the upcoming Rosati-Kain Alumnae Association events! Our next meeting is in March. All Meetings will be held in the Daniels Learning Commons. Mark your calendars for the following meetings and events.
Saturday, February 15th, Kaleidoscope Dinner Auction
Sunday, March 22nd at 1:30 pm
Sunday, April 26th at 10 am, Alumnae Mass and Brunch
Monday, May 18th at 5 pm, Graduation with ASK Sponsors and 1970 Honor Guards
June, Alumnae Baseball Game, date and time TBA
Sunday, August 16th at 1:30 pm
Sunday, October 18th, at 1:30 pm
We welcome our alumnae from all classes to join us at any of the Alumnae Association events and meetings. For more information, please email Jennifer Shephard Guidici '87 at [email protected].
Would you like to be featured in the next R-K Today?
Do you have news to announce such as a special trip, birth, engagement, wedding, new job, promotion, etc.? Send a blurb and photo or a link to the news article to [email protected] and we will publish and feature your news!
The Alumnae eNewsletter keeps alumnae connected with Rosati-Kain by sharing information about alumnae events, school news, and alumnae updates.  Are you receiving your newsletter?  If not, please update your contact information by emailing our Alumnae Relations Specialist at [email protected]
If you have any news to report or questions about the Alumnae eNewsletter, please contact Lisa Svetanics Mitchell '87, Communications Specialist, at [email protected].
Read the latest news and information about R-K and our community. These publications help us all stay connected to the daily life and traditions of Rosati-Kain and includes the Parents' Newsletter, R-K Today and The Occasional.
Rosati-Kain class rings are forged in tradition and memory, bonding alumnae to R-K and their graduating class.
Rings donated to the R-K Ring Konnection, however, are even richer in history. Decades-old rings that may be forgotten about in a jewelry box or left after an R-K alumna passes away are re-connected to current R-K students.
Beginning in 2016, alumnae who would like to donate their class rings or those rings of a loved one, can do so by filling out the form attached below and contacting Jen Guidice at [email protected] about delivering the ring.
The alumna ring is then paired up with a current Junior who is unable to purchase a ring on her own.
To download an R-K Ring Konnection Form, please click here
In 2013, the Rosati-Kain graduating class participated in the first Alumnae Senior Konnection program, or ASK. As part of this new tradition, each senior asked an alumna to be her graduation sponsor. R-K alumnae – grandmothers, mothers, aunts, sisters, and friends – were represented at graduation and able to offer a special blessing to welcome Rosati-Kain's newest alumnae into the sisterhood. As part of the ASK mentor program for 2014, ASK mentors and their seniors enjoyed social events throughout the year before graduation.
Please click here to view the list of 2016 ASK sponsors and their seniors.
Please click here to view the list of 2017 ASK sponsors and their seniors.
Please click here to view the list of 2018 ASK sponsors and their seniors. 
The Advancement Department, in coordination with the Alumnae Association, is excited to offer a new Alumnae Shadowing Opportunity.
The shadowing program provides any current Rosati-Kain student with the opportunity to shadow an alumna for one day. This program is available throughout the school year and select days during the summer. This allows students plenty of time to connect with an alumna and to find a date that works for both students and alumnae.
Note that the goal of the shadow program is for students to learn more about a career from an alumna already in the field. To get a sense of a "day in the life of … ". This is not a job interview and students will be responsible for their own travel the day of the shadowing opportunity.
If you are an R-K alumnae and would like to register to be a part of this shadowing program, please email Jen Shephard Guidic '87 at [email protected].
For more information on how you can be a part of one of these reunions or tours, please email Jen Shephard Guidici '87 at [email protected]. 
We offer these options for your reunions:
1.  Heavy appetizer happy hour:  On a mutually agreeable Friday or Saturday. Lasts for 3 hours. Includes a tour. Kougar Kloset is open as well.  We will have some decorations, but you are free to bring your own also. Hosted in the Learning Commons/Courtyard (weather permitting). Cost is $40/person.  Includes beer, wine, soda, water PLUS five options below:
cheeseburger sliders
toasted ravioli
Roma tomato bruschetta
sweet bacon
cheese tray
fruit kebabs 
2. Sit-down lunch/dinner:  On a mutually agreeable Friday or Saturday. Set menu. Lasts for 3 hours. 
Included 2 servers, a tour, goody bags, archives, and the Kougar Kloset open as well. We will have a few decorations, you are free to bring your own as well. It will be hosted in the gym and Cost is $60/per person. Caterer handles tables and table linens in dark grape and gold colors. Menu is:
Wine, beer, soda, water, and ice tea
Spinach and pear salad
Entree choices: Beef tenderloin medallions, Chicken Scaloppini or Chicken spiedini
Rustic mashed potatoes
Green beans
Dessert choices - dark chocolate mousse filled crepes topped with Grand Marnier wild berries, classic St. Louis cannoli - mascarpone cream filling, or Amaretto mousse piped in a chocolate cup topped with white chocolate shavings
Ask about vegetarian and/or gluten-free options
3. Rental of the Learning Commons/Courtyard: Flat rate of $300 for use of the space for 3 hours on a mutually agreeable Friday or Saturday. We will only be providing the space. You will be responsible for your own food/drink or caterer and decorations. We can give a tour and will have the Kougar Kloset open.
You're Invited! Rosati-Kain High School invites you to the Alumnae Mass & Brunch on Sunday, April 26, 2020. Mass at the Cathedral Basilica at 10:00 am R-K Doors Open at 10:45 am Reservations are $30 per person Please click HERE:
https://rosatikain.givingfuel.com/alumnae-mass-brunch-2020
to make reservations. For special parking arrangements, or to make your reservations via phone, please call Jennifer Shephard Guidici '87 at 314-533-8513 ext. 2216. Please indicate if you are able to attend Mass at the Cathedral Basilica in addition to brunch. If you are unable to attend, please consider sending in your favorite R-K memory to share with your classmates.
Who wants to get together with your fellow R-K Kougars? We had a great time in Kansas City at our first Kougar Konnections night! We followed that with nights in Denver and St. Louis! Thank you to all our alumnae who joined us.
We are planning a Kougar Konnection night in Chicago next.  Want to help us plan this fun night?  Email Jen Guidici '87 at [email protected] for more information.
You've been balancing a busy life and it's time to grab your sister, girlfriends, and daughters and enjoy a fun and relaxing afternoon at R-K. Discover some of St. Louis' best shops and boutique and meet new friends on Sunday, November 24th from 1 pm - 4 pm. We are always looking for vendors to feature at our 'Girls Day Out' so let us know if one of your favorites would be interested in participating.
This event is a 'Don't Miss' for vendors and shoppers!! If you are interested in becoming a vendor, please email Maggie McCarthy at [email protected].
Save the Date - Sunday, November 22, 2020, 1 pm - 4 pm