Thank you for your interest in Rosati-Kain High School.
This page is designed for you to register for our upcoming events.
To sign up, CLICK HERE and select the event and date that works for you!
You can also fill out the form below.
Upcoming Events: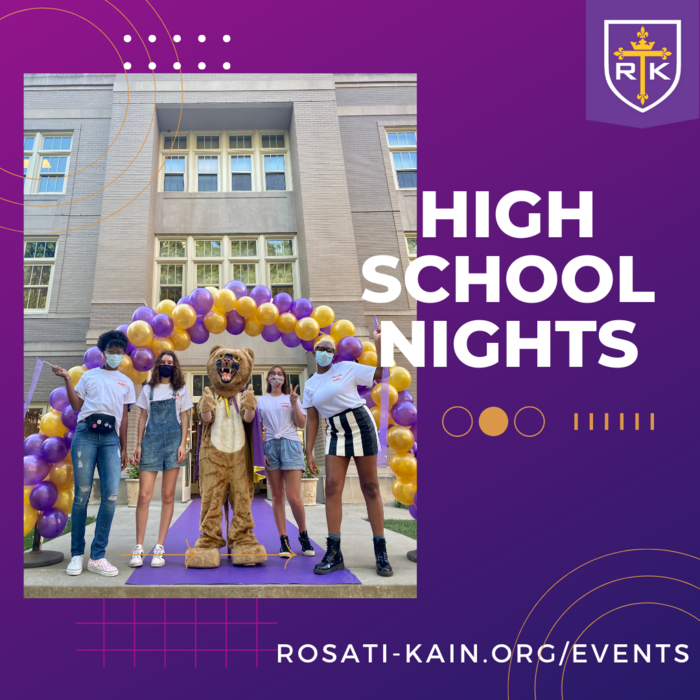 Virtual High School Nights:
Join us for a presentation. Choose from 7:00 to 7:40 p.m. or 7:50 to 8:30 p.m.
 

Thursday, September 23

Tuesday, September 28

Monday, October 4

Wednesday, October 13

In-Person Open House:

Sunday, October 24 from 12 to 4 p.m.            
We encourage 7th-grade families to schedule a tour of the R-K campus in the Spring and 8th-grade families to schedule a tour in the Fall of each year. We would like the opportunity to provide students, parents, and families with a personal experience.
We are happy to work around your schedule and can schedule during, before, or after the school day.  Please be sure to fill out this form with as much detail as possible so we can also offer an ambassador follow up to answer any questions you  may have.   This is a casual, yet informative, way to see the school, find out more about the application process and answer any questions you may have about R-K. We look forward to seeing you soon!
Please contact our Director of Enrollment Management Maggie Ervin at [email protected] or call (314) 533-8513 x 2215 for more information.
If the form below does not load, please try refreshing the page.